Description
Ergonomically Engineered
Designed to stimulate blood circulation and reduce fatigue on legs, back and feet by providing better pressure distribution and significantly reducing contact stress.
Patented Rubberized-Gel Foam
A perfect office, lab, garage or kitchen mat offering superior performance over polyurethane foam mats. Provides unmatched tensile strength to resist tearing, an easy-to-clean waterproof and oil-resistant surface, enhanced shock absorption to reduce fatigue, and enhanced durability for high traffic areas to ensure the mat will not break down or compress over time.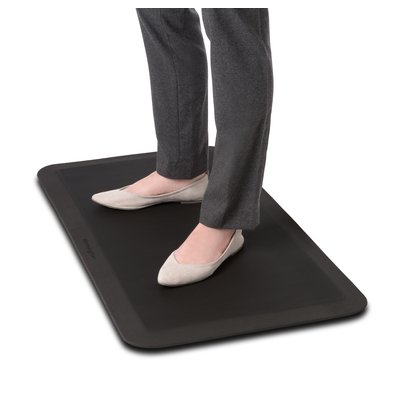 NFSI Certified Anti-Slip Surface
High-traction certified by the NFSI to reduce slipping risks and ensure mat stays in place even in heavily trafficked areas.
ADA-Compliant Beveled Edge
Designed with compliance in mind, the edge the mat will not roll-up, is trip resistant, and provides the 18° angle for an office chair to roll on and off with ease.
Non-Toxic & Flame Resistant
Vinyl and BPA-free to support stricter environmental standards than most traditional polyurethane foam mats for a healthier work environment, while also meeting Cal 117 fire safety standards.
Color

Black

Warranty

1 year